This 300 acre Mount Apatite park is a local treasure located southwest of Taylor Pond and north of Rt. 11. The city of Auburn purchased the property in the early 1970s and created trails throughout the park in 1994. Mt. Apatite Park is known for the abundance of minerals such as tourmaline, feldspar, quartz, and of course, apatite that can be found throughout the property. Throughout the eighteen and nineteen hundreds, these minerals were sought after by explorers and mining companies such as the Maine Feldspar Company.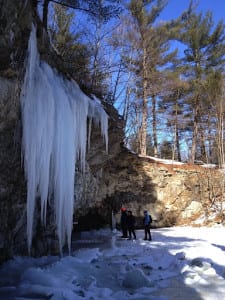 Today, Mount Apatite is a preserved park owned by the City of Auburn and open to the public.  It's enjoyed by  local nature enthusiasts. The Mount Apatite trails are ideal for a full day of hiking or biking through beautiful wilderness, and the highest point, located towards the North West end of the park, overlooks Auburn, Mount Apatite Farm, and Taylor Pond. 
Directions: Going west on Minot Ave (route 121) take a right onto Hatch Road.  Continue about 1.5 miles on Hatch Road until you see Small Road.  Take a right on Small Rd and the main entrance is at the end of Small Road where you will see the Andy Valley Sno Gypsies Clubhouse.
You can also access the park via Garfield Road where the Auburn Suburban Baseball Fields and Army National Guard are located. There are two outlets along Garfield Road. The first is approximately 2.6 miles north from the trailhead, and the second is 2.15 miles north of the first.