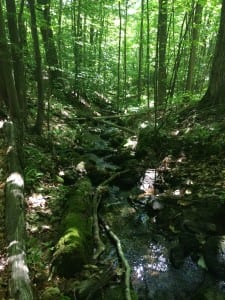 Pettengill Park is a 45 acre property owned by the City of Auburn that includes playgrounds, a pond, ballfields and forested trails.
The trail can be accessed at several locations but the southernmost terminus is located on Union Street in Auburn at the Cedar Street Park.  
From Cedar Street the trail continues through the southern portion of the park which provides great public sledding during the winter months and wide open green space during the summer months. The trail crosses Dennison Street and leads to the northern part of the park where the ballfields, playgrounds, and arena are located.  
The forested section of the trail begins behind the arena and hikers can choose the marked loop trail that returns back to the arena or can continue on to the trail's end at Summer Street.
The entire trail takes a little over an hour to complete and is recommended for those with little time and who wish to experience a fairly short walk in quiet wilderness conveniently located right in the heart of Auburn.
Directions: Pettengill Park can be accessed in several locations but parking is ample along the park road near the arena. The park road continues through the park and intersects Field Avenue at its end.