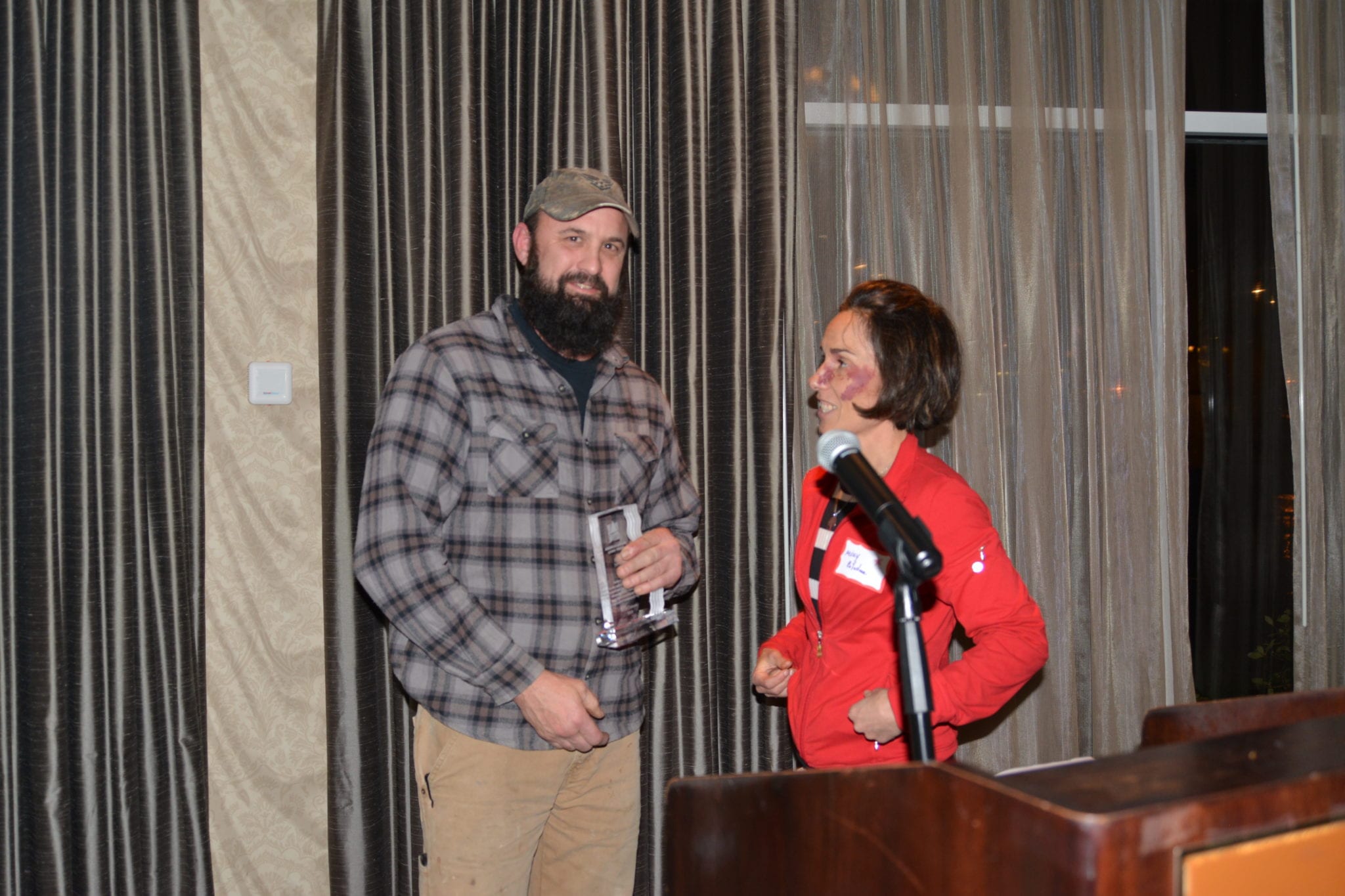 The Elliott Bates Stewardship Award is awarded by the Androscoggin Land Trust (ALT) to the individual best exemplifying the spirit and dedication to stewardship shown by Elliott Bates during his long career as a volunteer to many and various environmental organizations.
The 2018 Elliott Bates Stewardship Award was awarded to Keith Comeau at ALT's Annual Meeting on November 13, 2018.
Keith is the ALT Volunteer Land Steward for Jersey Bog in Buckfield and Hooper Pond in Greene which means he monitors about 800 acres of land (almost 1/6 of ALT's total acreage), and completes 7 reports for ALT each year. Not all of that land is an easy walk in the park, Keith navigates wetlands, bogs and property lines that do not follow neat trails. The large number of acres that Keith monitors makes him worthy of this award but he does more beyond this.
Keith previously served as an ALT board member. He has donated time and materials to build kiosks, stored and transported building materials for ALT, shared his building expertise for several projects, and is an invaluable resource on the stewardship committee. He brings his skills and knowledge, perspective as a hunter and his straightforward, action-oriented honesty. Keith works plenty hard in his family business Comeau & Son's and manages to do so much for ALT on top of that. He got involved in ALT because he loves being a sportsman and spending time in the woods. He recognizes the value of public lands for this passion of so many Mainers and understands the connection between sound habitat management and healthy wildlife populations. ALT is very fortunate to have Keith's input in many ways, and very much appreciates all the ground that he covers.
Congratulations, Keith!
Jersey Bog Conservation Area, Androscoggin Land Trust conserves approximately 600 acres in this area through both ownership of approximately 340-acres and several parcels under conservation easement. This vast territory is stewarded annually by Keith Comeau.