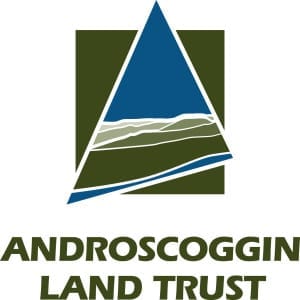 Release sent at the request of the Board of Directors
For more information:
Jim Pross
Androscoggin Land Trust – Board President
(207) 782-2302
Androscoggin Land Trust Board Announces Transition of Executive Director Michael Auger
Auburn – JUNE 19, 2015
FOR IMMEDIATE RELEASE
The Androscoggin Land Trust Board of Directors announces with regret that Mike Auger, the executive director at ALT, will be leaving his position at the end of June.  Mike and his wife Christina plan to travel west and settle closer to family members.
Jim Pross, President of the Land Trust, and the other Board members, presented Auger with a gift and card at Tuesday night's Board meeting, his last.  Past President, Judy Marden observed, "We will miss Mike so much.  He has been the heart and soul of the Land Trust, with years of institutional knowledge at his fingertips.  As a Board member, he kept the land trust together during its years as a completely volunteer organization, and has served devotedly as its Director of Land Protection and Stewardship, and now Executive Director."
Mike's involvement with ALT began in 2000, when he and Christina attended an ALT field trip.  Before long, Auger, a botanist and ecologist, was leading field trips of his own.  They both joined the Board, and worked to conserve unique and precious lands such as the Hooper Pond Preserve in Greene. He was hired in 2006 to serve as ALT's first full-time director of Land Protection and Stewardship.
In recent years, he has worked to build a cadre of volunteer stewards to assist with the sizeable effort of monitoring ALT-held land and conservation easements. He leaves the organization in a position of strength.  In the fall of 2014, the acquisition of almost 1250 acres of land from Verso Paper Company to ALT was completed after years of negotiations, bringing its conservation holdings to approximately 5000 acres.  Also in the fall, ALT achieved National Accreditation from the Land Trust Accreditation Commission, an independent program of the national Land Trust Alliance.
A search for a new Executive Director will begin immediately.  "We will be looking for a person passionate about land conservation, who can sustain our core responsibilities to existing conservation lands, and go forward with enthusiasm and excitement," said Pross.  "Mike has set a high standard, but we are confident the right person will come along to fill his big shoes."  A search committee for a new Director has been established.
"I don't think that anyone can doubt or question that this community is much better-off thanks to the conservation work that Mike has done here in the last 15 years.  His legacy in this community is the 5000 acres that ALT conserves, thanks in large part to his involvement and efforts.  That legacy will last forever, as those lands are conserved in perpetuity," noted Pross.
The Androscoggin Land Trust protects important natural areas, traditional landscapes, and outdoor experiences within the Androscoggin River Watershed by promoting stewardship and supporting a network of public and privately-held conservation land. For more information, call 207-782-2302, email Jim Pross at jpross@tarbellpa.com, or visit www.androscogginlandtrust.org.
END