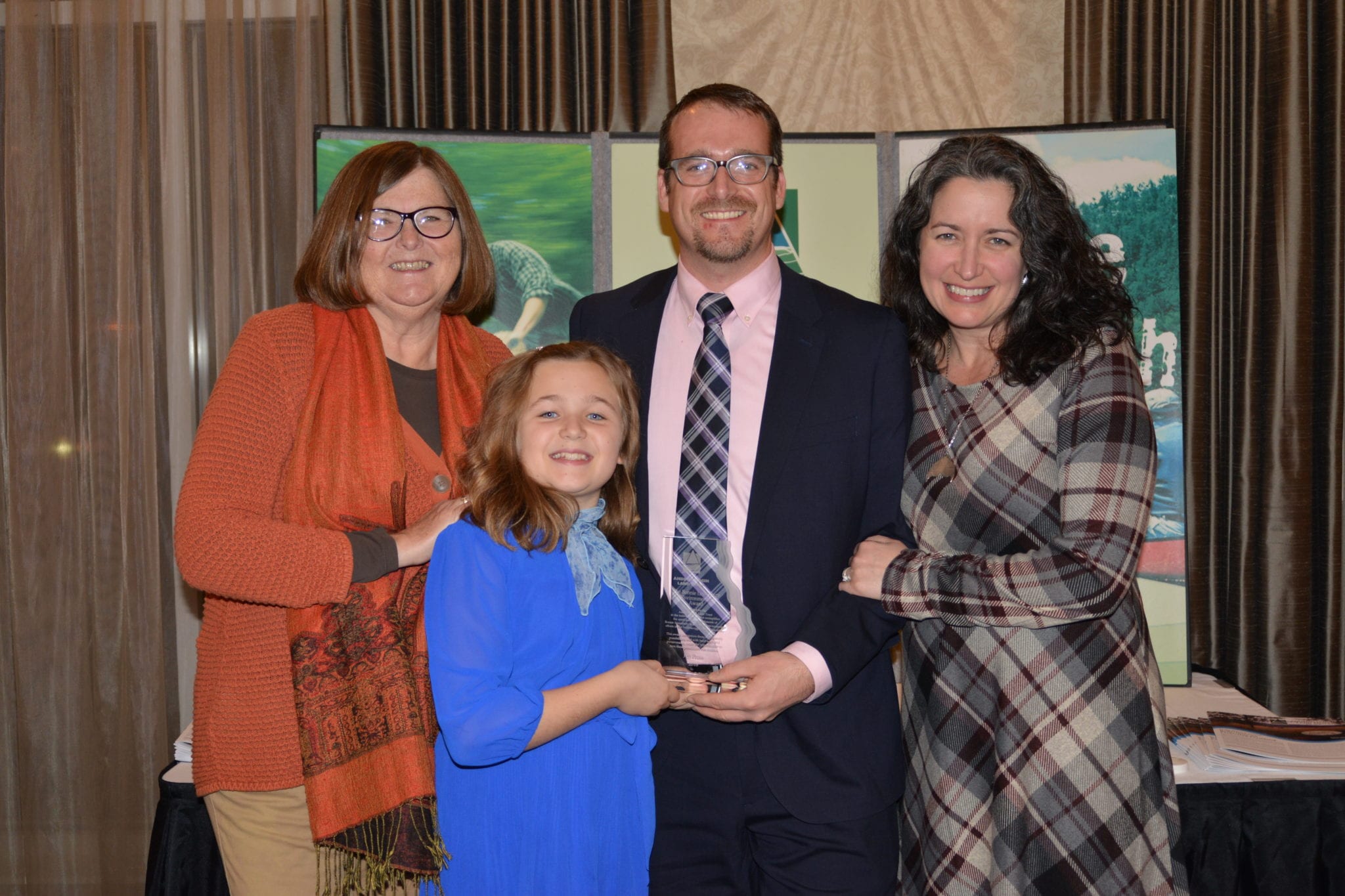 The Bonnie Lounsbury Environmental Award is given by the Androscoggin Land Trust (ALT) to the organization or individual who best exemplifies the spirit and accomplishments of Bonnie Lounsbury in advancing environmental efforts in the central Androscoggin River Watershed. This award recognizes those who identify possibilities, and with hard work and perseverance, create the opportunities to turn these possibilities into realities.
The 2018 Bonnie Lounsbury Environmental Award was awarded to Jim Pross at ALT's Annual Meeting on November 13, 2018.
In 2018, Jim is completing nine years of dedicated service to ALT as a board member and leader, in all senses of the word. As Vice-President of the board in 2013 and 2014, Jim shepherded ALT through the rigorous review process that was required to pursue national accreditation through the Land Trust Alliance. It was an enormous undertaking, and thanks to Jim's hard work and that of others, our organization successfully earned that mark of distinction as a result, attesting that we meet national standards for excellence, uphold the public trust, and ensure that conservation efforts are permanent.
Jim, an attorney with the firm of Skelton Taintor & Abbott, has lent helpful legal expertise regarding conservation easements and transactions in a host of different board deliberations. He has been an ardent spokesperson for ALT's mission and work, through presentations to business groups and local city and town councils; he has advocated for the wider benefits of land conservation throughout Maine in testimony before the Maine legislature. Jim even lent his voice to the narration that accompanies the Travel Stories history tour  smartphone ap you can access and stroll along the LA Riverwalk or paddle on the Androscoggin area between the Lewiston and Auburn downtowns.
Jim has been a key organizer of the ALT Canoe and Kayak River Race for the past three years, and has also served as the volunteer steward for Durham River Park. In that role, he came to know long-time ALT board member John Ackerman well, and has been instrumental in honoring John through the renaming of Lisbon Island as Ackerman Island. Jim has spoken about  eloquently how his childhood experiences enjoying the protected open spaces on Block Island were formative to his interest and efforts on  behalf of land conservation. Committed to ensuring that his daughter Clover, and other young people, in every future generation, have similar opportunities, Jim has contributed unparalleled wisdom, passion, diligence, patience, and skillful leadership to ALT, which which continue to bear fruit for years to come.
Congratulations, Jim!