Cancelled-Great Maine Outdoor Weekend – Snowshoe Hike at Androscoggin Riverlands State Park
February 9, 2019 @ 10:00 am

-

12:00 pm

Free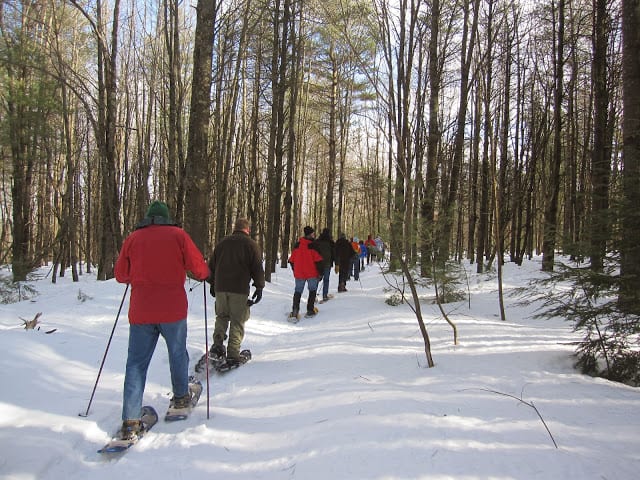 **Based on the latest forecast of wind chill values as low as -4 and gusts as high as 45 mph, we are cancelling the Riverlands State Park Snowshoe Hike event on 2/9/19**
We will miss exploring beautiful Androscoggin Riverlands State Park with all of you, please check out our other upcoming invents including the Spruce Mountain Sled-in and Full Moon Snowshoe at French Falls.
CANCELLED: Hikers can choose to do the 2.2 mile loop to the picnic meadow and back, or continue on to complete a 4-mile loop trek. Come ready to explore the beautiful Androscoggin Riverlands State Park!
What to bring: snowshoes, water and a snack, warm clothing (layers suggested). Meet us at the Riverlands State Park parking lot located off Center Bridge Road at 10am.
We will have approximately 20 snowshoes available to borrow thanks to Maine IF&W. Please contact ALT in advance if you are interested in borrowing a pair: 782-2302 or info@androscogginlandtrust.org
The State Park was once a quaint Turner village that was destroyed in 1927 by rising waters caused by the construction of the Gulf Island dam. In the mid-1980s, the potential sale of this vast parcel of land along the Androscoggin River in Turner left a cherished local landscape vulnerable to development. Compelled toward action, a small group of area residents began brainstorming ways to preserve the land as open space and to maintain its longstanding public access. Drawing upon the expertise of statewide conservation organizations, they succeeded in securing funds from the fledgling Lands for Maine's Future Program to purchase the land, which was then transferred to the Maine Bureau of Parks and Lands for management. Today, the Androscoggin Riverlands State Park is the fifth largest in the state park system, a 2675-acre expanse that offers miles of public trails, river access, year-round recreational opportunities, and significant natural habitat for wildlife. This successful grassroots effort at land protection was the catalyst for the creation of the Androscoggin Land Trust (ALT) in 1989 as a vehicle for continuing conservation efforts in the region.
Hope to see you there!
You can check out these links for more information about Androscoggin Riverlands State Park:
Website
Historic Brochure
Androscoggin Riverlands State Park Guide