Source to the Sea – ARWC – Auburn/David Rancourt Preserve
August 11, 2019 @ 8:30 am

-

11:00 am

Free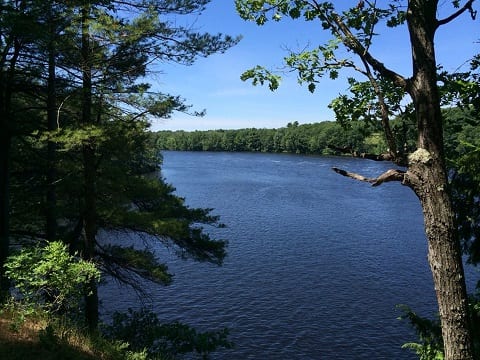 Judy Marden, a past board member of ALT and experienced paddling leader, will lead this leg of the Androscoggin River Watershed Council's (AWRC) Source to Sea Paddle event series and we hope you will join! This is a mellow and scenic round-trip paddle from Auburn to ALT's David Rancourt River Preserve in Lewiston and back to Auburn. You just might see an eagle or two.
Put-in will be at the North River Road Boat Launch in Auburn (behind Wendy's).  The group will paddle about 1.75 miles (total round-trip is approximately 3.5 miles) to the David Rancourt Rancourt Preserve, just below Deer Rips Dam, take a short hike on the preserve, and then back to North River Road Boat Launch.  The current along this stretch is slow unless you choose to paddle up into the rips.  Meet at 8:30 am at the North River Road boat launch (behind Wendy's on Center St. in downtown Auburn).  Bring your kayak or canoe, sunscreen and bugspray, and plenty to drink, and meet us at the North River Road Boat Launch at 8:30AM!
Put in and take out: N44°27.977′ W070°13.513′
Notes: Put in at the North River Road launch in Auburn and paddle about 1.75 miles upstream until you reach a small sand beach on the Lewiston side of the river.   Current is slow to non-existent because the put-in is just above Great Falls Dam and the Rancourt River Preserve is just below the Deer Rips Dam. Join for lunch at Rolly's Diner in Auburn for lunch after the paddle.
Click below for map.
http://goo.gl/maps/TYj3Y
FMI about the Source to Sea Trek and to make a voluntary donation to support ARWC: http://arwc.camp7.org/event-3342448