Tick Education: Understand Ticks & Tick-borne illnesses.
April 19 @ 5:00 pm

-

6:00 pm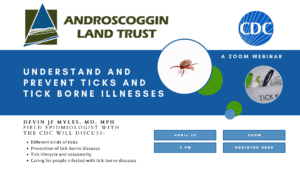 This presentation is great. It educates people about different kinds of ticks – ones to be wary of and ones that are not so scary. Prevention of all tick diseases and education about the different tick-borne illnesses. Participants will understand the life cycle of the tick and the seasons they need to pay attention to ticks. They will leave understanding how to take care of themselves, their lawns and their loved ones.
ALT is happy to partner with the Maine CDC to present Tick Education; Understand and Prevent Ticks and Tick-borne illnesses.
Devin Myles, Maine CDC Field Epidemiologist is our presenter for this online talk. Devin is from Turner and loves the Riverlands State Park. He is excited to share tick education with us.