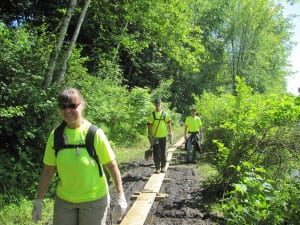 This is an approximately ¾ mile trail along the Little Androscoggin River in New Auburn.   The property is privately owned by David Frank and ALT holds a license permitting the existence of the trail and trail maintenance.
The trail starts off Mill St. in New Auburn in the parking lot of Upper Barker Mill Hydroelectric Dam Project, owned by Ridgewood Renewable Power.   The dam is on land owned by David Frank but leased by Ridgewood.
From the Lower Barker Mill Dam, the trail then runs southwest along the Little Androscoggin River for approximately ½ mile before encountering an Auburn Water District utility right of way.  The trail follows the right of way back to Mill St.  Users can either retrace their steps to the parking lot or walk back on the trail.
Directions:  From downtown Auburn, follow Main Street to the intersection with Mill St and take a right onto Mill St. Drive past Barker Mill Arms apartment complex on the right. Just after this apartment complex there is an unmarked driveway on the right (that belongs to the dam operators). This entrance is to the parking lot of Upper Barker Mill Hydroelectric Dam. The trail begins here and you can park in this lot as long as you are not blocking the entrance gates to the dam. There are currently no signs marking the trail.