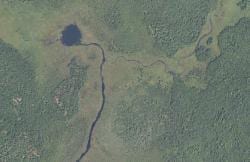 The Jersey Bog wetland complex is of significant local ecological importance as deer wintering habitat and waterfowl breeding territory. Its Northern White Cedar swamp has been cited as an exemplary natural community by the Maine Natural Areas Program and a wide array of wildlife call the area home.
Androscoggin Land Trust now conserves approximately 600 acres in this area through both ownership of approximately 340-acres and  several parcels under conservation easement:
Ackley-Drew Brook Forest: Wes and Marilyn Ackley generously donated a conservation easement to ALT on this 165-acre parcel in 2005 to permanently protect forest and wetlands along Drew Brook which drains into the greater Jersey Bog ecosystem. In 2017, Wes and Marilyn Ackley donated the land on the 165-acre parcel to ALT to own in fee, along with an additional adjacent 132 acres.
Drew Brook Forest:  ALT bought this 126-acre property north of Bear Pond Road in 2008 and sold it with a conservation easement to Michael Newton in 2011.  The conservation easement permits the continuation of sustainable commercial forestry while protecting the ecological integrity of the forest and wetlands of the greater Jersey Bog watershed.
Everett Towle Forest:  The Nature Conservancy generously donated a conservation easement on this 185-acre parcel off Purkis Road to ALT in 2011. The property is owned and managed for sustainable forestry while protecting the Jersey Bog watershed by the Small Woodland Owners Association of Maine (SWOAM).
Directions:  From Route 4 in Turner, take Route 117 west to the intersection with Bryant Road in Buckfield.  Take a right onto Bryant Road and follow to the intersection with Bear Pond Road.  Take a right onto Bear Pond Road and follow to 160 Bear Pond Road.  The ALT property is across 160 Bear Pond Road (see map).  Please respect nearby privately owned property.  The conservation easement parcels are privately owned and are not open to the general public.