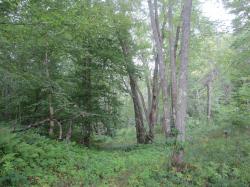 This approximately 4-acre island (formerly known as Lisbon Island) in the Androscoggin River is situated roughly a quarter-mile downstream of the Durham River Park. Donated to ALT in 2010 by the Town of Lisbon, the island is to be incorporated in the Androscoggin Greenway vision. Generally flat with steep banks along the river, the island is mostly hardwood species on a fertile, well-drained soil and contains important floodplain, bird and wildlife habitat.
In 2019, ALT renamed the island after the late John Ackerman, who passed away in 2014.  John, a resident of Durham and former land steward for the island, also served as an ALT board member for almost a decade, from 2004 to 2013.  John was instrumental in the establishment of the Durham Conservation Commission (DCC) in the early 1980s. Through the collaborative efforts of the commission and ALT, John worked to acquire the land that became Durham River Park, and designed trails and maps for its access and recreational use. As
forester and landscape architect, he drew plans for spaces including Wolfe's Neck Woods and Mount Blue State Parks. The Town of Durham dedicated its 225th Annual Town Report to John in 2014. Recognizing his passionate advocacy for the creation of the Runaround Pond Recreation Area in 1975, and decades of conservation advocacy, John's wife Diane sold his treasured woodlot on Runaround Pond to the Royal River Conservation Trust in 2017. John will be remembered not only for his passion for the environment, but for the wit, wisdom, and integrity he brought to the leadership of Androscoggin Land Trust.
Directions:  From the Durham River Park on Route 136 non-motorized boats can be launched to access the island.  For motorized boats, the Durham Boat Launch should be used for access.   Boats should navigate into the small channel between this island and the larger Wagg Island, where boats can be pulled up and visitors can scramble up the slopes of the island.