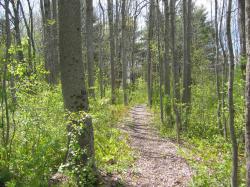 The Sherwood Forest Conservation Area contains 28 acres of woods and fields owned by the Androscoggin Land Trust adjacent to Sherwood Heights Elementary School and another 50 acres owned by the City of Auburn both of which have extensive trail systems and are also used by students for nature study and educational opportunities. The ALT owned property, also known as the Alexander-Harkins Preserve, was donated by Joseph Harkins to ALT in 2000. The property features an outdoor classroom space, a small pond, and bridges over streams.
Directions: Follow South Main Street to New Auburn to the intersection with Cook Street.  Take a right onto Cook Street and follow until the intersection with 19th Street.  Take a left onto 19th Street and follow until it dead-ends.  Park on the side of 19th Street and the trailhead will be on your left.
Download a Sherwood Forest Trail Map– Go for a hike, snowshoe, mountain bike, or xc ski!
Download a Sherwood Forest Self-Guided Natural History Tour – Great for teachers, students, and families!
Trail Map:Sherwood-Map-8.27.18-9x14in