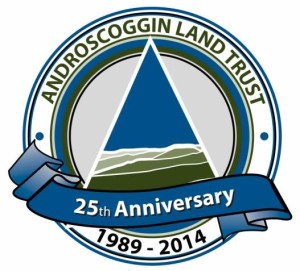 Release sent at the request of the Board of Directors
For more information:
Michael Auger, Androscoggin Land Trust – Executive Director
mauger@androscogginlandtrusto.org
(207) 782-2302
Androscoggin Land Trust Announces Acquisition of Conservation Land
Auburn – Nearly 1250 acres of forested land along the Androscoggin River in Canton and Jay are now permanently conserved for public benefit.  After working on the project for more than three years, the Androscoggin Land Trust (ALT) has purchased the land from Verso Paper Corp. thanks to generous funding from Land for Maine's Future, Maine Natural Resource Conservation Program and numerous private foundations.
ALT envisions these diverse lands as a community forest that conserves local landscapes for wildlife habitat while ensuring public access and maintaining the land as a working forest.   "Verso and the Androscoggin Land Trust have partnered on various community-spirited projects including the annual Source to Sea Trek, National Trail Days, and area ATV club trail clean-up efforts," says Verso's Androscoggin Mill Manager, Marc Connor.  "This partnership, over time, has shown us first-hand the incredible work ALT has done toward increasing recreation around our mill and in our community.  This project will allow lands that were formerly owned by Verso, but not actively used by our business or the public, to be opened up for community enjoyment."
"We are excited to announce the permanent conservation of these exceptional lands" said Michael Auger, ALT Executive Director. "These beautiful properties, which include more than three miles of Androscoggin River frontage, are locally important for wildlife and economically important to their communities.  ALT commends Verso for its vision and commitment to the long-term conservation of this land. We are looking forward to continuing to work with the local communities to build collaborative efforts to manage these properties as community forests forever."
The Androscoggin Land Trust protects important natural areas, traditional landscapes, and outdoor experiences within the Androscoggin River watershed by promoting stewardship and supporting a network of public and privately held conservation land. ALT currently conserves over 5,000 acres of land, including over ten miles of riverfront along the Androscoggin River. For more information, call 207-782-2302 or visit www.androscogginlandtrust.org.
Verso Paper Corp. is a leading North American producer of coated papers, including coated groundwood and coated freesheet, and specialty products, with $1.5 billion in net sales for the year ended December 31, 2012. Verso is headquartered in Memphis, Tennessee, and owns paper mills in Maine and Michigan. Total production capacity generated from these mills is 1.5 million tons of paper and 930,000 tons of pulp. Verso's paper products are used primarily in media and marketing applications, including magazines, catalogs and commercial printing applications such as high-end advertising brochures, annual reports and
direct-mail advertising. Additional information about Verso is available on its website at www.versopaper.com.