ALT 2023 River Clean-Up!
October 14 @ 9:30 am

-

12:00 pm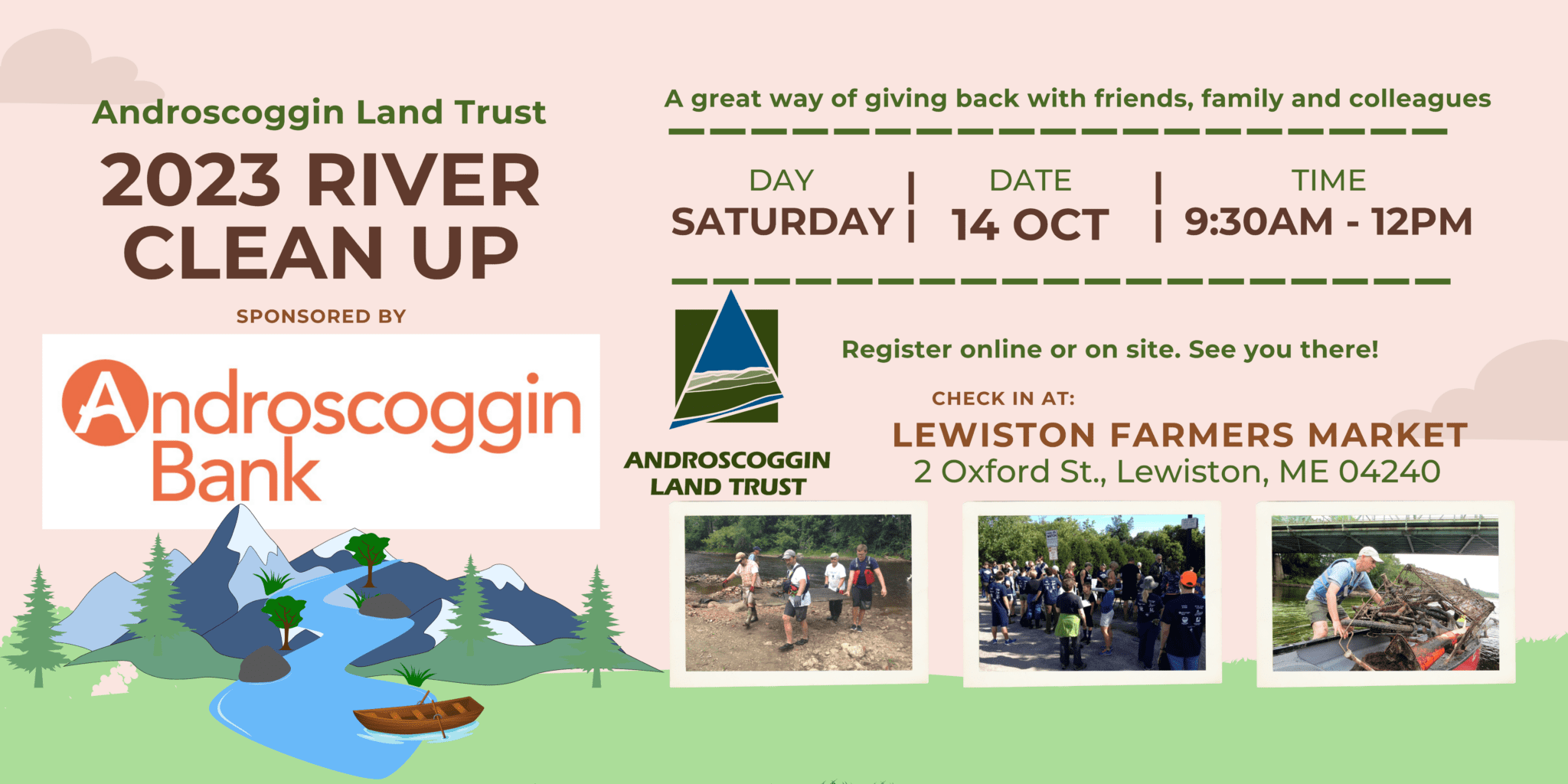 *DUE TO THE IMPENDING IMPACT OF HURRICANE LEE, ALT IS MOVING THE ANDROSCOGGIN RIVER CLEANUP TO THE WEEKEND OF OCTOBER 14th. OUR APOLOGIES TO ANYONE AFFECTED AND WE HOPE TO SEE YOU DURING THE RESCEDULED EVENT!*
Join us by boat or foot for the 2023 Androscoggin River Clean Up sponsored by Androscoggin Bank! The Southern Clean Up Checks in by 9:30am at the Lewiston Farmers Market parking at 2 Oxford St. to pick up gloves, pinchers, trash bags, buckets, anything you need to help us and your community keep the banks of the Androscoggin River Clean!
There will be six 'zones' this year from Great Falls to the Bernard Lown Peace Bridge with drop off locations for items collected for each zone! You will be provided with an assist point of contact in case you need help collecting refuse or if someone is injured.
There will be PUF's made available for folks in case they choose to wear them from the shore. Power boats can be launched from the Lincoln Street Boat Launch at 509 Lincoln St, Lewiston ME 04240. Hand Carry Boat Launching is permitted from Simard-Payne Park at 46 Beech St. in Lewiston in front on the Check in station and at Anniversary Park, 8 2nd St, Auburn, ME 04210. There is free parking at all locations. The City of Auburn has partnered with RENT.FUN to offer Kayak Rentals at Anniversary Park if you choose not to bring your own, first come, first served. More info here: 
Kayaks for Rent in Auburn!
Contact us for further information via telephone at 207-782-2302, email info@androscogginlandtrust.org, or via the Androscoggin Land Trust profile via Facebook or Instagram Messenger!  We hope to see you this Saturday and thank our sponsors, including Androscoggin Savings, the lead sponsor of the 2023 ALT Androscoggin River Clean Up!
Reserve your space here: https://ALT2023RIVERCLEANUP.eventbrite.com