Annual Meeting
August 15 @ 5:00 pm

-

8:00 pm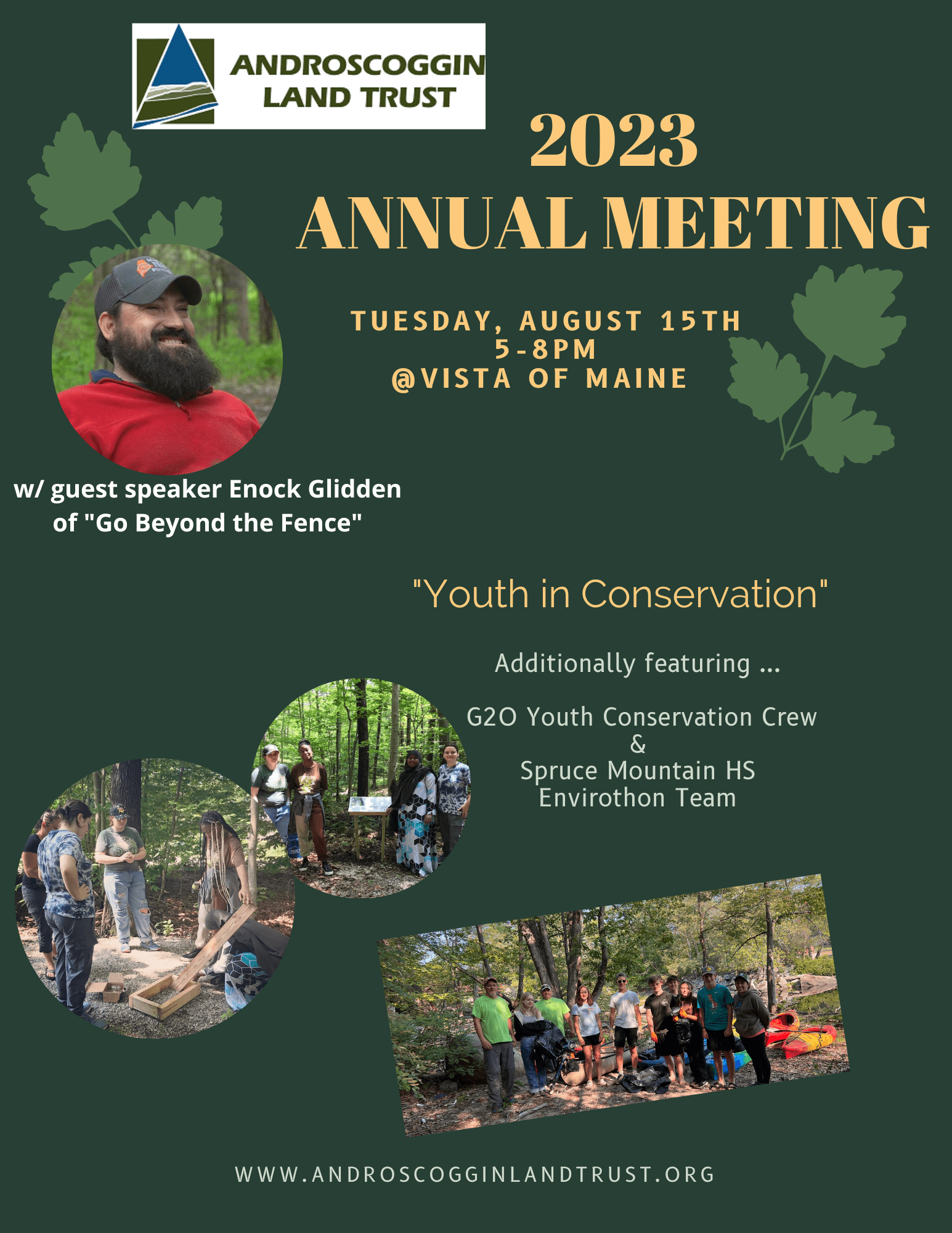 Annual Meeting 2023 – Youth in Conservation
Welcome to the 2023 Annual Meeting for Androscoggin Land Trust! We are thrilled to extend a warm and enthusiastic invitation to you.
TICKETS here: ALT Annual Meeting at Vista of Maine in Greene
Free event, donations appreciated
This event is an extraordinary opportunity to immerse yourself in the world of conservation efforts in our region while connecting with like-minded individuals who share your passion for the environment. Join us on Tuesday, August 15th, 2023, starting at 5:00 pm, at the stunning VISTA of Maine, nestled at 158 North Hills Ridge, Greene, ME 04236.
Prepare yourself for an unforgettable evening filled with exciting experiences and insightful discussions. Our in-person gathering promises to be both engaging and informative, offering you the chance to forge new friendships and expand your professional network.
We are honored to present our guest speaker, Enock Glidden, from Go Beyond the Fence and Maine Trail Finder, who will inspire us with valuable expertise and experiences. Enock has been a collaborator and consultant with our G2O program this summer on building accessible trails. Born with Spina Bifida, Enock Glidden is a disabled athlete, adventurer, motivational speaker, and an advocate for others with disabilities. Enock's movie aptly named "Enock" documents his first ascent of El Capitan in the fall of 2016. The documentary highlights what can happen when a community comes together with a common goal. Despite not having the use of his legs, Enock has lived to overcome life's challenges, breaking physical barriers and defying odds. Enock lives by his motto: "If you try, things happen".
Additionally, we celebrate the amazing achievements of the youth from our G2O program, who have dedicated their efforts to building an accessible trail at Camp Gustin. Witness the passion and dedication of the Spruce Mountain High School Envirothon team, the 2023 State of Maine champions.
At the Androscoggin Land Trust's Annual Meeting, you'll have the chance to engage in meaningful conversations, celebrate conservation victories, and gain valuable insights into the future of environmental stewardship.
We sincerely hope you will honor us with your presence, as your participation will undoubtedly add to the richness and diversity of perspectives at this event. Mark your calendars now and come be a part of this occasion. Your presence matters, and we can't wait to welcome you with open arms.
See you on August 15th, 2023 – together, we'll make a positive impact on our region and beyond. Let's forge new connections and inspire change together!